Hi! I missed you! I'm so happy to be back in your inboxes!
I know I said I'd publish every other week. I also know I did not uphold that promise. But this is why I wrote a Manifesto, people! Rule #1 is literally "DO NOT EXPECT CONSISTENCY." Actually, every single core tenant of this newsletter begins with "DO NOT EXPECT." That is because if anyone has literally one single expectation of me, I will crumble under the pressure.
I also went to Amsterdam for 10 days and had planned to get some writing done there. But "plans" is just another word for "expectations." Ergo, I crumbled. Idk, it's been a particularly crumbly time. The brain is a tricky thing, my friends.
I think my current state of mind is best communicated through the poetry of Sharpay and Ryan Evans:
This is not what I want.
This is not what I planned.
And I just have to say
I do not understand.
Something is really...
(Something's not right)
...really wrong.
And we've got to get things back where they belong.
What I'm trying to say is that I'm working through some stuff. I like to talk about it in the newsletter from time to time. Writing about it does help. I hope it doesn't make you feel sad, because I think it's actually pretty normal. And I'm not really sad about it. I'm just doing my thing, living my life, and hopefully writing more newsletters.
HIGHBROW
Okay, yikes, Simone from the intro section of the newsletter is depressed and oversharing again. Simone from the HIGHBROW section of the newsletter is thriving, hip, considered conventionally beautiful in all cultures. And she watches only the finest absurdist comedies (absurdity is highbrow). Yes, she's the kind of girl who laughs into her turmeric latte while watching HBO's Los Espookys, somehow also managing to get everything on her to-do list done and staying slim thicc through it all.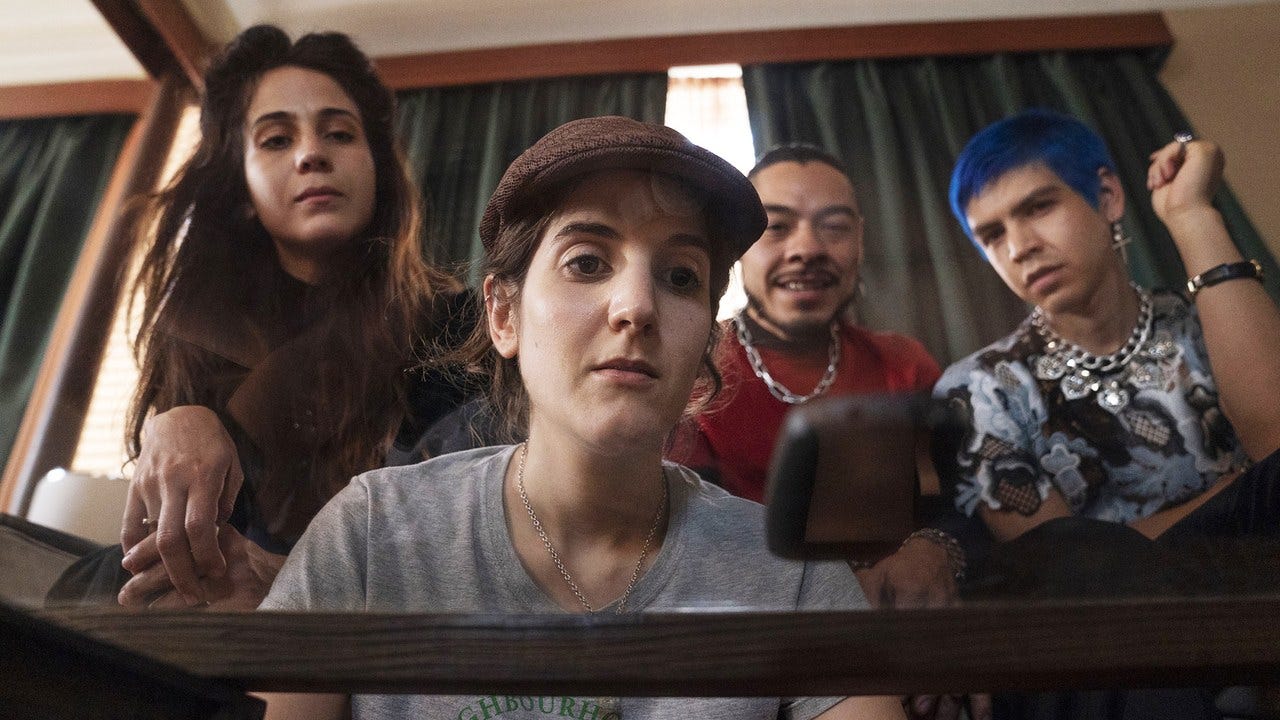 Los Espookys follows a group of young adults as they pursue their dreams in, what I can only describe as, the "horror space." Together, they do business as Los Espookys, masters of horror and stagers of spooky illusions for clients in need. Are you an ambassador trying to get out of your responsibilities? Los Espookys will make it look like you are trapped inside a cursed mirror so you can take an extra week of vacation. Are you an older priest trying to assert your dominance over a hotter, younger priest? Los Espookys will stage an exorcism and get you back to your rightful position as Top Priest.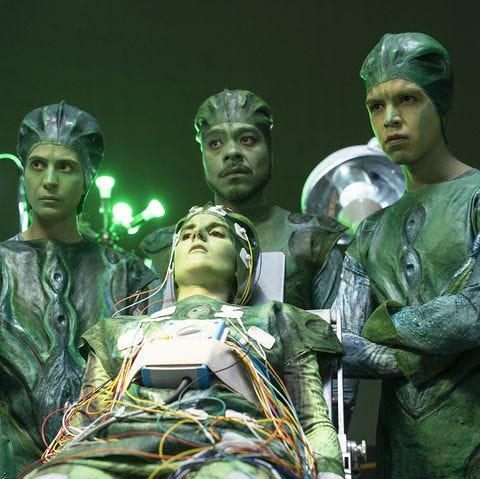 The show was created by Ana Fabrega, Julio Torres, and Fred Armisen (you know, the non-Black actor who played Barack Hussein Obama on SNL for YEARS and no one talks about it…). If you're not already familiar with the comedy of Fabrega and Torres, then I'm a little screwed because I'm not really sure how to describe them. One could call their styles absurd, unpredictable, dry, weird. One could even call them "quirky" if one wanted to contribute absolutely nothing of substance to this world. In any case, they have a very particular sensibility that is infused into every single frame of Los Espookys that makes it a total pleasure to watch.
The first season is a quick watch—only six 30-minutes episodes—but each episode is dense with incredible comedic choices. Every single thing in this world is of this world. The hair, the makeup, the costumes, the props, the set, it's all designed with a joke in mind. Do you understand what I'm saying? Even the set design is funny. Do you understand how that's crazy? You've got world-class comedians slamming it out of the park with their performances and I'm still like "ok that set design is comedy gold." It seems like every single speck of dust in this show was chosen with intention, and it all culminates into this awesome, fully realized, so so incredibly funny show.
The entire first season of Los Espookys is available now on HBO. And if you haven't figured out how to steal HBO by now, I'm sorry but I can't help you, sis.
LOWBROW
As some of you already know, I am Kpop trash. And somehow it keeps getting worse???? I have historically been more of a girl group stan, but for some reason, this has been the summer of becoming addicted to boy groups. I am a grown-ass woman falling in love with 20-year-olds who are styled to look like anime hunks. Like literally, how did I get here?? I didn't ask for this?????????
I had all these grand plans to write about the legacy of Ashley Tisdale today. I even set it up in the intro to this newsletter. But now that I'm here, my brain is like… okay but what about Monsta X. So fuck it, LET'S TALK ABOUT THEM.
Yeah, Monsta X is a Kpop boy group. Yeah, they all look amazing. Yeah, I love all of them. Yeah, they're my seven adult sons. Yeah, even though one of them is my exact age.
Here are the stats: Monsta X is a seven-member boy group from Starship Entertainment (the same company that gave us Kpop legends SISTAR). They are Joohoney (the funny one), I.M. (the feisty maknae), Hyungwon (the meme), Wonho (the gym bro), Kihyun (the vocal king), Minhyuk (so adorable he looks fake), and Shownu (who is truly built like Johnny Bravo).
They were formed through No Mercy, a reality competition show that is ENTIRELY AVAILABLE ON YOUTUBE and absolutely worth watching. Yes, you will see teenagers get their dreams crushed in front of an international audience. But I… kind of… like that……………….
Monsta X skews a little older for a new-ish Kpop group (their youngest is 23, their oldest is 27), so I feel like they skipped the "I'm your cute high school boyfriend" phase and jumped straight to Big Daddy Energy. Their music is powerful, aggressive, and (this is perhaps not the intention of the artists) really gets me, personally, in the mood to start a fight.
This year, Monsta X have been making a really aggressive push in the States. They've had interviews with every possible music and pop culture media outlet. They've collaborated with Steve Aoki and French Montana. They're in a freaking cartoon. They even recently performed on Kimmel.
Now, this is where I need to take a moment to blow off a little steam. I generally try to follow the rule of "if you can't say something nice, don't say anything at all" here on the newsletter. But French Montana has got me ALL THE WAY FUCKED UP. You guys know French Montana, right? From dating Khloe Kardashian and being in a video with a girl I went to kindergarten with. You might even know him from music. One such music is the song WHO DO U LOVE?, an all-English track from Monsta X, featuring the aforementioned Monsieur French. The song absolutely SLAMS. It's groovy and sexy and moody and angsty. And French Montana has a verse ¯\_(ツ)_/¯
After hustling for 4 long years, my beautiful adult sons have crossed off a major career milestone and made their American late-night debut. Earlier this month, they were set to perform a series of songs on Jimmy Kimmel Live!, including WDUL with Français Montagne. So there they are, living the dream, slaying hard, looking like a two-page Versace spread. Then comes the time for French Montana's verse. He moseys onto the stage—and I'm not saying "mosey" to be funny, he truly skips-to-my-loo like this is Gymboree and not an internationally televised performance/his JOB. He immediately fucks up his cue. He then proceeds to bop through his verse with the vigor of someone in the first few seconds of exiting a coma. He then forgets like 80% of his own lyrics (but sadly nails the line "beef cookin' like Gordon Ramsay"). He THEN wraps it all up by doing a little shimmy and walking off the stage with the same urgency one might feel while strolling through a botanical garden or perhaps while in deep REM sleep.
Now, I don't know French Montana. It's very possible he's going through something in his life that makes putting even the most basic effort into his paid work not his top priority. But even considering the, I'm sure, endlessly complex internal world of French Montana, his approach to collaborating with Monsta X is reflective of a larger attitude towards Kpop in America (and generally outside of Asia) that really gets my goat.
In 2017, when BTS beat out Justin Bieber, Ariana Grande, and Selena Gomez for the fan-voted Top Social Artist award at the BBMAs, people were intrigued. And then they heard the number of votes they had received—over 300 million—and people were immediately like, "oh snap, how do we monetize this?" And ever since, American media has been making clumsy attempts to figure out this "Kpop thing" without really understanding what its "deal" is. I've seen interviewers treat these artists like foreign exchange students, like cogs in a soulless pop machine, like children, like aliens. They're either like, "oooh how exotic" or "wtf why is my boss making me interview these boys in blouses and lip gloss" or "wow teen girls are so horny for you… explain" or "do you guys have [insert some basic-ass shit] in Korea?" or "onion haseyo LOL ok I did my part, now the burden of not using your first language is entirely on you" or "oMg noN-KoReaNs arE listEniNg to KorEan mUSic whooOOAAAaaaHHHhhh" as if you hoes haven't been singing along to La Bamba on your family vacations to Club Med Cancun since 1958. And these outlets will gladly put these groups in their thumbnails, in their headlines, in their "lit tweets for the youth" because they know there's a dedicated fan base who will pay attention. It pisses me off. I swear to god Desiigner is the only person who respects Kpop in this country
And to me, French Montana did just what these other media outlets do. He heard that this Kpop shit is blowing up, hopped on a track with a mediocre verse, collected a paycheck and called it a day. At least that's the version of events that played out in my mind, based on little more than that Kimmel performance. I don't have a legal team, people. This is all ALLEGEDLY ALLEGEDLY ALLEGEDLY. Great, that should hold up in court.
Anyways, that wasn't fair to Monsta X. But my boys held their heads up high and kept it cute. A testament to their professionalism and my great parenting skills.
Despite all this, WHO DO U LOVE? is truly bop-central and worth your time. I would also recommend DRAMARAMA and Shoot Out and 아름다워(Beautiful).
--
Okay, well that's that on that OKURRRR… lol… just kidding.
Just about the "okurr" part. That is actually that on that.
See you again… at some point? Who knows these days!

Anyways, always love.
xoxo,
Simone