Issue #26: How To Get Ahead in Advertising and Mike's Mic
"I saw you hanging out with Kayley yesterday." "R-REBECCA ITS NOT WHAT YOU THI-" "I won't hesitate, bitch!" *pew*
I'm back with another HB/LB for ya. I did something very business and bought the domain www.subscribetohblb.com so that if you're ever out in the world telling someone about this very classically beautiful woman's very cool and potentially monetizable newsletter and they're like, "How can I, Jonah Hill, film industry professional who loves supporting up-and-coming talent and man who once made eye contact with Simone when we passed each other in the street over a year ago which she interpreted to have sensual undertones and she hasn't stopped thinking about it since, subscribe to this HIGHBROW/LOWBROW?" you tell him:
Simple as that.
I've got some silly fun for ya this week, so I hope you're in for a goofy-ass time!
HIGHBROW
I have been in love with many White boys in my time. David was my first. We went to the same Montessori preschool and he had a cute little dimple chin and real JTT vibez. When I moved onto crushing on celebrities, I basically died for every mop-headed blonde who appeared on a screen before me: The Sprouse Twins (was first Cole but am ultimately Dylan), Jason Dolley from That's So Raven spinoff Cory in the House, William Moseley from The Chronicles of Narnia movie (the Ben Barnes vs William Moseley debate caused a real rift in my tenth-grade friend group). I then graduated to the brunets: Joe Jonas, Jake Gyllenhaal, even famously gay man Jonathan Groff (I choose not to factor the person's sexual orientation into my crush assessment). When Dev Patel swooped onto the scene, he took my attention firmly away from all other celebrities, so I went back to crushing on every bespectacled sad art boi with an Anglo face who so much as glanced in my direction. If you keep up with the newsletter, you're likely aware of my more recent afflictions (presently Uncut Gems Adam Sandler is my sugar daddy in my head). This is all to say, I have a long history of falling deeply in love with White boys (ok tfw when ur white-supremacist colonial conditioning SNAPS), but none have affected me quite as much as Richard E. Grant, man of my dreams (subcategory: older, White, British).
I was first introduced to Mr. Grant via an educational film that was screened in my Latin class. I believe it was called… Spice World? And Mr. Grant plays the role of the Spice Girls' manager, complete with sideburns that look like a Kardashian-Jenner's unblended contour. And yes, we watched the film in my Latin class because there is one scene with the Girls have to go to Italy to dance with men who have the asses cut out of their pants. That's why we also had to watch The Lizzie McGuire Movie and Mary Kate and Ashley's When In Rome. Italy is present-day Latin, after all.
If I'm honest, I didn't register the greatness of Mr. Grant in Spice World because at the time I was more focused on Scary Spice getting her boob honked by an alien. And then I saw How to Get Ahead in Advertising and I was like, "OH! Ok. I get it. This man is a god among mortals. And I love him" (it's really healthy to get deeply emotionally involved with famous performers you will never meet, I hear).
How to Get Ahead in Advertising may be, on its surface, about a talented London-based advertising executive who gets so stressed out about an upcoming pitch for pimple cream that he has a manic break, but I took it to be about me (most things are) in 2012, a Boston-based college virgin whose clinical horniness (self-diagnosed) drove her to ask her hairstylist for a Les Mis-era Anne Hathaway pixie cut despite having the exact opposite hair texture (a form of mania in some cultures). Mr. Grant plays the expertly named Denis Dimbleby Bagley, 80s hypercapitalism incarnate. He's arrogant, he's loud, he's manipulative, and his ego like a Nicki Minaj attack (massive). He's never met a product he can't sell, that is until he is asked to sell pimple cream. The creative block sends Denis into a mania that becomes physically manifest into a boil on his neck. The more he worries, the more the boil grows. And then, one day, the boil starts talking. What follows is a BONKERS, WILD, FRENETIC ride down a bottomless psycho-spiral of an over-worked egomaniac (like I said, me in college).
If you're a ho for practical effects, this will be your jam (I mean, just look at that BOIL). If you're a ho for production design that looks like it was directed by Lisa Vanderpump, this will be your jam. If you're a ho for actors bringing their full selves to a demanding role, familiarize yourself with Richard E. Grant, honey!
How to Get Ahead in Advertising is currently available on Criterion Channel and British iTunes (VPN wiz kids, you know what to do) and sadly not many other places that I can find.
LOWBROW
I passed my college statistics class with flying colors (a C+) so believe me when I say that at any given moment of the day, there is an 80% chance that I am watching YouTube (the rest of my time breaks down to 10% eating, 5% sleeping, 3% being the unnecessarily competitive psycho in my yoga class, and 2% fucking 😜). And the shit I watch on YouTube is never like, "Enrich Your Brain with Useful Information." It's more like, "Chaotic Teen* Is Chaotic for Anywhere Between 6-90 minutes." And my current King of Kaotic Kontent is a very cute Australian coder-slash-devoted Barb and lover of all the exact same garbage I like to consume. He is Mike's Mic. And we stan.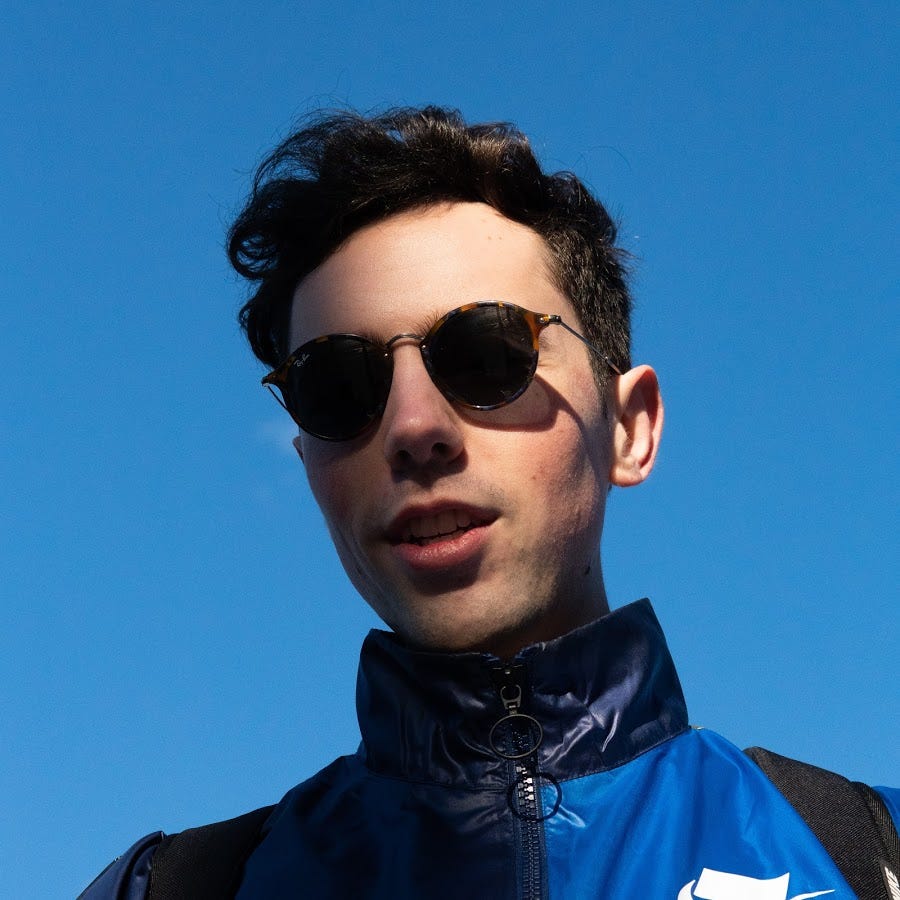 What Mike does on YouTube really is a public service. He takes the entire CANON of what I like to call in private "gays and girls TV" (absolutely do cancel me for this)—think Real Housewives, Dance Moms, KUWTK—and he breaks down this UNIVERSE into entertaining, incisive, borderline anthropological videos that make me laugh so hard I shriek.
But the most precious jewel in this King's Krown of Kontent is his series titled, "Essential Viewing." It is where he does the hard work of watching hours of reality TV (we're in this fight together, Mike!) and mines the gems for our viewing pleasure. I'm going to list my faves for you, but please do not watch these all in one sitting. You might very literally bust your gut. Space 'em out. Savor them.
Simone's Essential Viewing of Mike's Mic Essential Viewing:
Big Boss India - I've watched, clinically speaking, a fuckton of reality TV. I thought I knew it all. But then Mike introduced me to Big Boss India and humbled me.
"You know nothing, my child," he whispered gently to me, "for you know not of the most iconic woman in reality TV."
"Um, yes I do, her name is Tiffany 'New York' Pollard and she will never be topped."
"SILENCE, INSOLENT ONE! WITNESS POOJA AND BOW BEFORE HER."
So I witnessed Pooja. And she changed my life. And I encourage you to witness her in all her glory, in this breakdown of history's most perfect reality TV moment. Respect for TP 4evr, but Pooja is kween now.
Dance Moms - I have such fond memories of watching episodes of Dance Moms with my college roommates on the dusty-ass floor of our common room. There was something about watching a room full of unhinged grown women going at each other that I found to be particularly calming after a long day of not doing my assigned reading. I have tried to explain many times to the unanointed how truly coo-coo this show really is, but people have a hard time believing that "a mom tried to bite the dance instructor's fingers off in front of her children." But that shit happened!
The Real Housewives of Beverly Hills - We all know Bravo are, as a collective, this generation's greatest storytellers (give Season 2 of Vanderpump Rules a Pulitzer!!!!), but there is something especially masterful about the infamous "Amsterdam Fight" in Season 5, Episode 16 of the RHOBH. It's almost like watching a symphony unfold. I honestly want to shed a tear just thinking about it. This is the kind of attention to craft that makes you want to keep doing the work. Bravo, Bravo.
Tyra Banks - Between America's Next Top Model and The Tyra Show, Tyra Banks spent nearly all of the 2000s traumatizing me. Whether it was teaching me how to have a toxic relationship with my body, or teaching me how to have a toxic relationship with other women, Tyra made sure I definitely had a toxic relationship with my Blackness. Of course, this is all a joke and, Tyra, suing me would be a waste of your time anyway so please don't. Haha. We love to laugh here. It's just that looking back on her body of work has been… let's say, illuminating. Love you always, Tyra <3
Keeping Up With The Kardashians - Choosing whether or not to engage with the Kardashians is a tricky game in 2020. On the one hand, if you're not feeling them, I get it, do you. On the other hand, KUWTK and the extended Kardashian universe is, at this point, as foundational a text to our culture as the good ol' Christian Bible. And yeah, I'll die on that hill. You don't have to engage, but if you don't, you're just not going to be able to understand culture. But if you want to stay ignorant, that's up to you! Your prerogative! It's just that some of us choose to do that hard work, but chase your bliss, babe!
***
And we've come to the end of yet another newsletter. Thank you, as always, for choosing to spend your time reading the words of a basic bitch in her early-late twenties.
xoxo,
Simone
—
*Teen is a word I like to use for "person" or "human being" regardless of their age. It's an energy, luvs.