Issue #19: Better Things and X Factor/The Voice Ukraine
If you read these subheadings, can you tell me? Otherwise, I'm stopping wasting my time on these hoes.
Good Summer, Hot Girls,
This newsletter continues to be allegedly published on Thursdays but actually published on Fridays. And that's charming and a conscious brand choice.
On another note, one HB/LB reader did a very kind thing and made a Spotify playlist of last week's recommendations. Thank you, reader, for facilitating continued summertime booty shaking (a core value of this community).
Without further delay, let's get into the fuckery.
HIGHBROW
Let me just say right off the bat, this recommendation comes with a grain of salt. And not table salt. More like a fat flake of finishing salt, the kind you might find atop a $9 chocolate chip cookie. And that is that Louis C.K. was very involved in creation of this thing I'm about to tell you about. I personally have a hard time landing on any one side of the "Artist vs Art" debate. I haven't listened to R. Kelly for years now. But Repulsion (1965), directed by Roman Polanski, is still one of my favorite films. I really struggle with my feelings about Great Work made by Bad People. I, however, do not struggle with my feelings about Louis C.K. masturbating in front of women without their consent. It's a violation, it's an abuse of power. And I'm not particularly interested in discussing his "path to redemption."
I am a fan of his show Louie. I won't go into how I feel about it now, post-news of his predation (spoiler: my feelings are complicated and confusing and conflicting), but I will go into my love of his co-star, Pamela Adlon. I did not know Pamela's face until seeing her on the show, but little did I know, I had been stanning her for YEARS as the voice of my personal role model, Ashley Spinelli from the animated series Recess! She's funny, she's charming, she's my favorite part of Louie. I was very excited when I heard she was making her own show for FX… which she happened to be making with her frequent collaborator Louis C.K.
Louis has since been fired from the show. When the news came out, Pamela Adlon responded with a message of support for the women who came forward. She also fired her manager who had allegedly been aware of C.K.'s behavior for years. So about that grain of salt: I'll let you decide where you wish to draw the line for yourself. If you're like, "thank u, next," I don't blame you. But if you want to hear more about the show, I'd like to tell you more about it.
The show is called Better Things and it tells the story of Sam Fox, a working actor and single mother of three daughters. The eldest is a teen nightmare in the middle of her sexual awakening, the middle child is a vocal, woke af activist, and the youngest is a cutie who sometimes throws tantrums about not getting the earrings she wanted. They all live across from Sam's mother Phil, played by Celia Imrie (who you may recognize from her iconic turns in Bridget Jones's Diary and Calendar Girls). It seems these women are in a constant state of chaos. Someone is always angry or annoyed with someone else. Sam is always stretched beyond her limits. There's all the yelling and eye-rolling typical of many onscreen mother-daughter relationships, but there's also the love, intimacy, and affection that's not as commonly portrayed.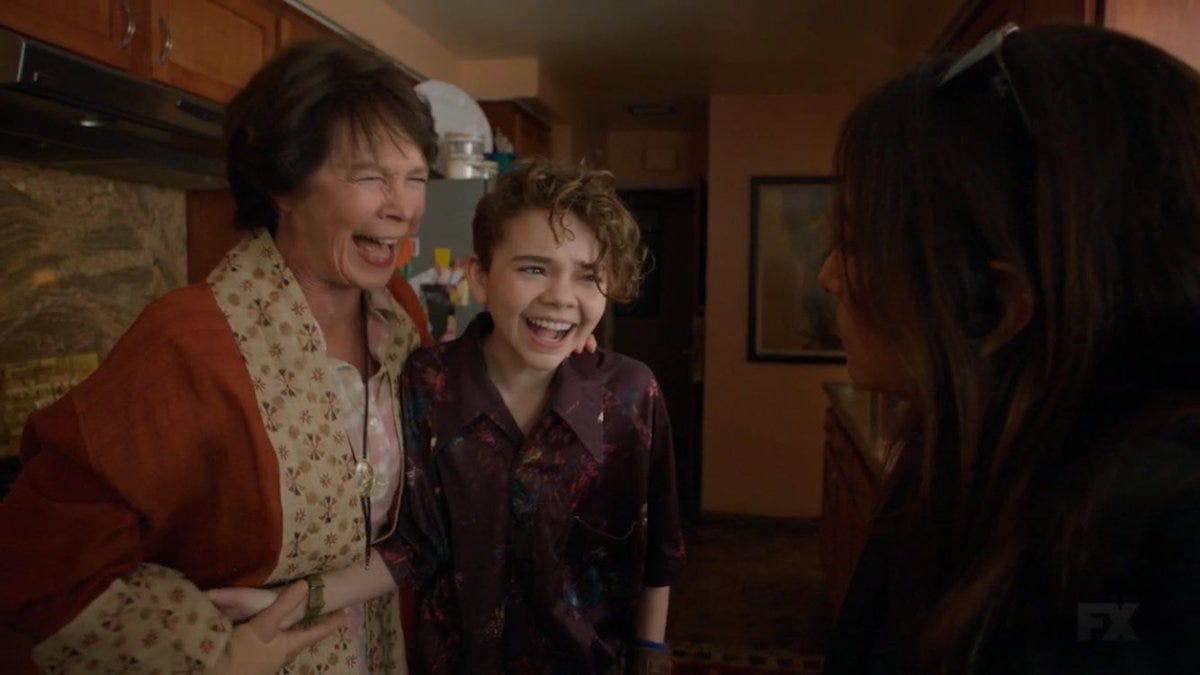 I've seen a lot of nuance and complexity in female relationships get squashed when translated onto the screen. I think Better Things is one of the few TV shows that treats these relationships with care and with gravitas. Adlon is the comedic force at the center of this world. She finds humor in pain, in angst, in confusion, in anxiety. She built a world around her that feels grounded and real, so that when she teases out the absurdity of her fictionalized life, it all just feels like an average day in the life.
I watched Better Things on Hulu, but it's an FX show. I highly recommend the first season. If you want to start with a single episode, my favorites are "Woman Is the Something of the Something" and "Duke's Chorus."
LOWBROW
I think it's pretty well known at this point that I'm YouTube trash and spend most of my time gleefully diving headfirst into rabbit hole after rabbit hole. One of my favorite rabbit holes is the "International versions of reality TV shows" hole. Asia's Next Top Model is good but not as sloppy as Tyra's OG ANTM. If You Are The One, the Chinese version of the Australian dating show Taken Out, is SAUVAGE! But my favorites tend to be the talent/singing competitions. It seems like every country has their own version of X Factor or American Idol or The Voice.
But, IMV(ery)HO, there's only one country that manages to stand out in a sea of high budget talent shows. Shoutout to UKRAINE!!!!!!!!!!
I'd like to share three clips, in particular, that blow my mind.
The first is from The X Factor Ukraine. Aida Nikolaychuk starts singing her song. The judges suspect she might be lip-synching so they ask her to sing a cappella. She then proceeds to show those turds what real talent looks like.
Next is Elina Ivashenko from Ukraine's The Voice: Kids. It's simple: She sings, I weep.
Finally—the most bonkers of all—this duet on The Voice of Ukraine. I say duet, but it's more like a sudden death face-off between two contestants with exact opposite voices singing the same song. And that song is Lana Del Rey's Summertime Sadness. And that shit slaps SO HARD. It doesn't seem that way at first. Your initial reaction might be, "um this is chaos and objectively bad," but I urge you to push past your preconceived notions of "good singing" and transcend onto their level of expert artistry.
***
Honestly, I feel like this week's newsletter was not my best work. I will work hard to do better! I already know what's on deck for next week and trust me, it'll be a good one!
Thanks for still reading <3
xoxo,
Simone